Staff Profile - Carrie Lynne Bennett
Aanii! Hello!
Carrie Lynn Bennett born and raised in Pickerel. I first became interested in Early Childhood Education from watching my sister do her job, and after becoming grandmother. I went to school at AEI in North Bay and got my Diploma for NECE.
It was a journey of learning, patience, endurance, understanding, and Love. It took two years to complete my goal, and it has been 5 years since I started working at the Henvey Inlet First Nation Daycare.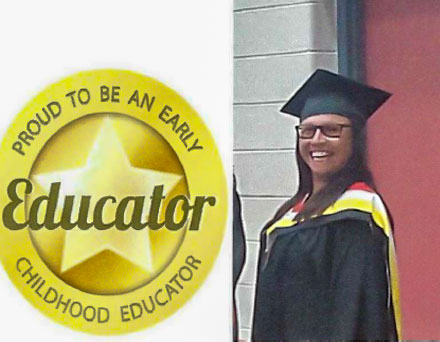 Through out my time here, it has been learning something new every day, from the children. They are such a small being in a big world that at time can be harsh and mean. They forgive at a drop of a hat, but can fierce when you hurt their friends feeling.
The children of our community are our future leaders, teacher, caregivers, etc., so they start in our community Daycare and continue on to the Education system. We hope to teach them a good bases of learning with our program and have that opportunity of bonding with extended family members in our community.
Family is: Even though it's easy to forget at times, family is the most important thing in the world. This could mean your mother, your father, your siblings, your spouse, your grandparents, your aunts, your uncles, your cousins, your in-laws - but for some, it's simply those with whom we share unconditional love!
That is one of my main reason for going into this area of work. Unconditional Love for the children, our work, our past, our present and our future!
Thank you
Carrie Lynn Bennett
RECE #67822
Certificate of Registration CECE - Carrie-Lynne Bennett RECE